A word from our President on the subject of NEGOTIATION.
I have noticed in my classes a distinct interest in the subject of negotiation.?? I have provided links below to courses in Negotiation.? The first two are lengthy and comprehensive and deal with negotiation from a general point of view.? The third course is shorter and rather elemental.? It also deals with negotiation from a general point of view, with a focus on HR type negotiations.? The fourth course/lecture was written for a one day long seminar.? It is very condensed and compact and is great for those who need a good comprehensive review of the subject.? The focus of the fourth course/lecture is specifically contract negotiation.
FREE ONLINE COURSE
University of California, Irvine
https://www.coursera.org/course/artofnegotiation
Next course starts April 6
FREE ONLINE COURSEs
University of Michigan
https://www.coursera.org/learn/negotiation-skills
Open Enrollment—Start at any time
FREE ONLINE COURSE
Courtesy of HRDQ and ACI
https://www.dropbox.com/s/lrhrzvdilnyk60g/effective-negotiation-skills.zip?dl=0
Download Dropbox Materials at any time
FREE ONE DAY NEGOTIATION LECTURE
Courtesy of National Contract Management Association (NCMA)
https://www.dropbox.com/s/4oss87y9f9ttvru/Contract%20Negotiations%20-%20A%20One-day%20Interactive%20Adventure.ppt?dl=0
Download Dropbox Materials at any time
ACI also has a certification program in negotiation.? Those who successfully complete the program and certification examination will be awarded the Certified International Professional Negotiator (CIPN).? This program is available worldwide through ACI's network of alliance partners and is available online for those students who cannot access ACI's alliance partner network.? For more details, contact us at admin@amcertinst.org.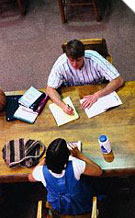 "Sharing my training experience with a group of my colleagues has helped me understand where this subject fits in my every day job"
- A recent student's Comments.
Your class was superb! I am grateful for the opportunity to study under you!
- John Redington
I wish to thank the American Certification Institute very much for this opportunity to improve my knowledge/skills/ability in procurement.
Although I know that there is still much I need to learn in this field. I will continue my study and will certainly take one or more of your "follow-on courses" at a later date.
- (Arvin) Gao Zhilong

ISO 9001
The Certification programs of the American Certification Institute (ACI) of Lewes , Delaware have been verified and determined to meet all the Quality Management System (QMS) requirements of International Organization for Standardization (ISO) Standard 9001, to include the Quality Management requirements, requirements for Quality Systems Administration, requirements for Process/Product Operations, and requirements for Quality Control. The standards developed by ISO are used by businesses, industry associations, governments and trade officials. ISO standards contribute to world trade by increasing safety, quality, reliability, efficiency and interchangeability. International standards help make products and services cheaper, safer and cleaner.
Read More>>